First, I'm so sorry I've been gone so long!! Life has been beyond hectic and crazy these last two months between doctors visits and work and home, it's been a tad stressful but I'm BAAACCCKK!! Thanks for the warning huh? LOL!!
I have some exciting news to share with you today!! My Denim Darling kit is the "Hot" Product at
DigishopTalk
this month! I'm so excited and I just absolutely love what the CT there did with my kit! They are some amazing girls and I'm so honored to get to work with them every month!! DST has been my home since they opened their doors a couple of years ago and I hope to always be there. I knew that I had to have a shot at the "hot" product when I started designing and lucky me got the shot this month!! Check out these gorgeous layouts from the Creative Goddesses over there: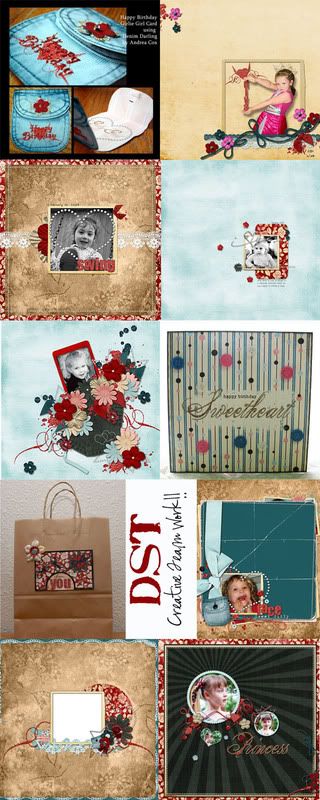 Click the image above to be taken to the DST "Hot" Product gallery so you can take a closer peek at those beautiful pages as they are revealed! You can grab that gorgeous quickpage on the bottom left for free in the DST Insider this month. It's available now free to all registered users. Just click the banner below to be taken to the DST downloads section:

In other news, I released a brand new kit this weekend! I know it's been a while since you saw me but hopefully you'll see more of me from now on and hopefully you'll keep loving it! This kit is special to me. It's all about boys and that's all I have to scrap about!! My CT has been asking for a boy kit and I have kept promising one and I finally brought it to them. It's full of some fun felt figures that I did from my own doodling and I have found that I LOVE to doodle and create things with them AND it's really not as hard I imagined it would be. I'm hoping that once I get my doodles a little more straight edged and closer to "perfect" that maybe I can put them out there for CU too. I have always loved to draw and doodle and this was the perfect escape for me. Okay, enough about that, check out my newest kit -- Nathan's World: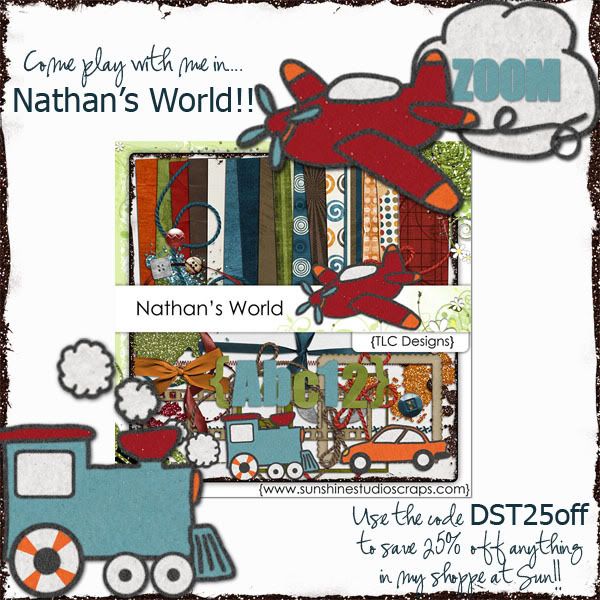 Oh and did you notice that lil coupon code there? You didn't?! Well, just enter the code DST25off in
my shoppe at Sun
and you can save 25% off anything that your heart desires!! Be sure to stop in there and check it out today!
One last bit of news....I have another alpha that I am almost done with that I created for this kit and thought it would be crazy to add THREE alphas to the kit so I decided to give it away here on my blog for FREE!! Be sure to check back within the next 24 hours to snag it!!
Thanks for stopping in today! Check back later for more news and hopefully lots more new goodies too!! Happy Scrapping!!